I had a nice little Target run on Sunday night after Emma went to bed to pick up the basics, return a swimsuit I bought online that did not remotely cover my newly acquired lady lumps, and get a few items for our trip to sunny Florida.  Tip: it is DEAD on Target on Sunday nights around 8:30pm. So lovely to leisurely stroll through the aisles in near silence and not have to wait in line to check out. What started as a relatively quick trip resulted in a full cart and a call from the credit card company verifying if I really spent that much money at Target. Yes, Citibank, I did- back off.
What can I say? Target's spring stuff is killing it! And I cannot wait for their collaboration with Lilly Pulitzer to be released on April 19th, which will of course sell out in minutes.  This is my fave:  
So cute right?
Below, a few things that made it into my cart and a few for the wish list:
1. I'm obsessed with anchors. Anchor earrings, anchors on all my clothes (and now Emma's clothes), nautical decor in the nursery. Really I should not be living in the middle of the country. So when I saw this pink anchor pillow (below) on the Targetsyle Instagram, I had to have it for the babe's navy and pink nursery. Too darn cute!
Pretty much want a beach house so I can buy all of these pieces immediately. In all likelihood I'll be back for the anchor bookends as well.
2. After a lot of trial and error, I picked up this cute black one piece. Check out the back! A little spicy and will result in ridiculous tan lines. I figure I need more than one suit for 9 days at the beach. I also packed a bikini, but I don't think I'm brave enough to wear it quite yet.

3. I like to decorate for the season and realized I was lacking significantly in Easter decor. These two made their way into my cart. The bunny garland doesn't look super cute in the photo, but does look really cute in my dining room. Sorry I forgot to take a photo of it in action–its been a hectic week and the dining room table has all of our clothes laid out for the trip. Not the first image I'd like to put on the internet of my home. Both the wreath and the garland are 10% off with code MOVINGDAY. Of course I bought in the store and did not benefit from the code. Ugh.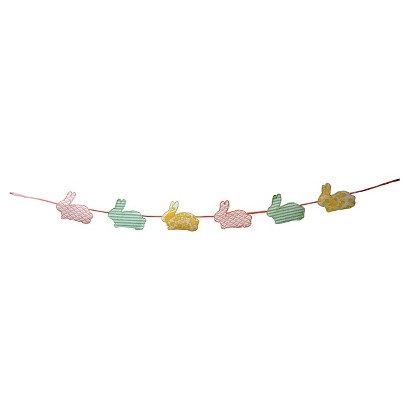 4. Emma has enough clothes for this trip to fill an entire suitcase. This is her swimsuit collection.

Yet, I managed to pick up a few more super cute pieces. I'm so excited for this little munchkin to start wearing dresses and onesies as opposed to fleece socks and sweaters!

I also bought this super cute suit but it is going back because my little gal is crazy tall and 9 months was too tight!

5. It's not a real trip to Target without a few treats for mama. Thankfully most of my summer wardrobe fits me, but there are a few outliers (I'm looking at you JCrew Matchstick white jeans that I love so much). I wanted to grab a few t-shirts and maybe some shorts, but I struck out. You guys, these were their jean shorts options:
Yuck. I did end up with a new cute pair of gold sandals, that are currently on sale.
And maybe one other treat:
Happy Easter my friends! I hope your weekend is filled with fun, family and sugary delights. I won't be blogging while I'm gone but feel free to follow along on instagram and tune in next Friday for a fun guest blogger!