I'm not going to lie–I'm pretty excited for my first Mother's Day! Last year I could not even fathom what motherhood would be like. It is truly impossible to imagine a love this big and I can't wait to celebrate with those I love the most.
I am one of those people that would rather have experiences than items as gifts, but I think everyone could use a little assistance with ideas. Below is a list of gifts I've loved in the past or would love to receive on May 10th. (hint, hint TJR!) Actually my husband is a really great gift giver. He uses holidays as an opportunity to spoil and splurge, where I'm very practical and buy him sweaters and socks. #lamewife  On to the gift guide!
1. I love personalized jewelry. It is so meaningful and special. Right after my daughter was born, I treated myself to a delicate gold bar necklace with my baby girl's initials. I wear it every single day and get compliments on it all the time. The photo below sucks. It is way cuter than that. 
I purchased mine from etsy shop Miaearrings, but Stella & Dot also has great personalized items. In fact, they have an entire section dedicated to charms and engravables. For Christmas I bought my mom this engravable bar in gold. My daughter and I share the same birthday, so I put 9.13 on the bar–the date her daughter and granddaughter were born. She burst into tears when she saw it.
I'm also loving this locket and this disc, all which can be personalized with varying fonts and styles. My friend Kristen is a Stella & Dot stylist so all my links are through her site. You must order by May 4th in order to guarantee Mother's Day delivery! If you want to do a little shopping for yourself, I highly recommend checking out their Summer Collection. I will be buying these hoops and this freaking adorable anchor cuff.
I also have had my eye on these bangles for a while. One with the coordinates of our wedding and one of the coordinates of our baby's birthplace would be perfect! Sidenote: how do you figure out coordinates?
2. The one thing every mama wants and needs (present company included) is a spa day! A full day of pampering at a spa would be absolutely amazing, but since I'm still breastfeeding, a massage and facial, or even a mani/pedi would be fantastic. I have yet to do a full spa day since moving to Chicago, but I'd love to try Bliss at the W Lakeshore. I love their products, namely the Bliss Triple Oxygen set and Incredi-Peel resurfacing pads, and like the idea of spending the afternoon in a cushy robe sipping cucumber water.
3. Speaking of robes, I definitely want one of these on Sunday morning. My husband gave me fantastic cozy winter robe for Christmas, but the dog ate it. Yep, ate an entire arm. It was Ugg brand (who knew they made robes?) so you know it keeps you nice and toasty during cold winter mornings or middle of the night feedings.  I'm hoping I'll get another one next fall to keep me warm through the winter. Ugg Robe
For spring and summer, I've had my eye on kimono robes. Light and oh so pretty. Considering I usually wear wifebeaters and pj pants to bed I need all the help I can get in looking put together in the morning.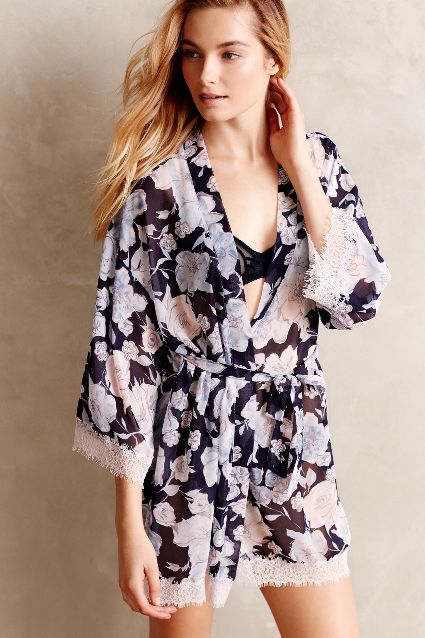 4. Chatbooks! This app takes your instagram photos and puts them into a cute little paper photo album. I have not printed one, not ONE, photo of my 7 month old baby girl. My mom is horrified I have no photos of her in the house. Terrible mother. Chatbook made it super easy, and I was able to sort through all photos (not just insta photos) on my phone and pick the ones that captured the first six months of my baby gal's life.
It cost me like $14 and you have options to include captions and dates–which I love, so I can see her grow and change over time. The photo/printing quality is not great, but the sentiment is lovely! I liked mine so much that I'm ordering a duplicate for my mom for mother's day. Get your first book free if you use my code: 9JJZ76C2.
5. If the weather were warm enough (why oh why do we live in Chicago? I'm still rocking my puffy vest!), I'd love a family picnic. I am the social manager of our family and planning events, activities, vacations is not my husband's strong suit. I would absolutely love if he planned an afternoon for our family, with a packed picnic. No thinking or shopping for me, just an enjoyable afternoon with my favorites complete with my fave bubbly.
Now can someone direct my husband to this post? Please and thank you.